SoftRider Center-Loading Shoes
SoftRiders are the new center-loading shoes from Soft-Ride, makers of Soft-Ride Equine Comfort Boots and Soft-Ride Ice Spa. After years of testing at top veterinary hospitals across the country, SoftRiders are now available for use with any horse.
SoftRiders feature a two-layer construction: the semi-rigid polymer layer simulates a live, healthy protective hoof wall, and the shock-dissipating urethane layer mimics the function of the soft frog. This dual density design strategically places the load on the center of the shoe/hoof rather than on the outside wall. This increases blood flow to the hoof, reduces strain on the coffin bone and pressure on the navicular region, and isolates the concussive force of impact with the ground on the horse's skeletal system. SoftRiders also offer improved multi-directional traction because they work like a human athlete's turf shoes.
While SoftRiders are great for aging horses with issues like laminitis, navicular syndrome and ringbone, they're perfect for long-term use on all performance horses.
"I put SoftRiders on two head horses with bad ringbone, and they were back to heading steers in just three days like nothing was wrong."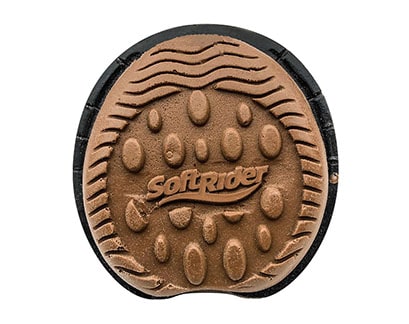 SoftRider Gel Max
The slightly curved sole on the Gel Max enables a horse to find the most comfortable resting position for the foot.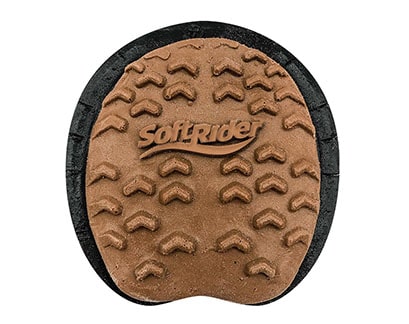 SoftRider Gel Arena
The Gel Arena's low profile, aggressive tread pattern and center-loading support make it a great choice for competition, trail, pleasure and general riding.
How SoftRiders Work
Centering the Load - The SoftRider's construction concentrates the horse's weight in the middle of the hoof, increasing blood flow to and from the foot. This is the same principle used in the deep gel orthotics in Soft-Ride's Equine Comfort Boots.
Reducing Strain - The SoftRider's rolling effect—both forward and backward—reduces leverage on all the soft tissues in the leg and lessens strain on the horse's coffin bone and navicular region. This rolling effect helps young horses last longer and can decrease the need for joint injections early on.
Isolating Concussions - Traditional shoes transfer impact straight into the hoof walls and up the leg, sending shock waves into the soft and hard tissue, inevitably leading to injuries and arthritis. While farriers can place a pad between a metal shoe and the hoof capsule, adding enough padding to truly lessen the impact is impractical. SoftRiders are designed to lessen the concussive force of the hoof hitting the ground.
Adding Traction - The shock-absorbing sole helps horses perform in challenging conditions. The elasticity of the urethane lugs on the SoftRider's sole allows them to move independently so that the shoe performs like an off-road tire or athletic turf shoe. Unlike traditional steel shoes, these shaped directional urethane lugs provide forgiving, less-strenuous traction.
Applying SoftRiders
The SoftRider can be screwed, nailed or glued to the hoof, and—like a traditional horseshoe--should be installed by a farrier or veterinarian. SoftRiders are sized like traditional horseshoes, and your horse can still wear Soft-Ride horse hoof boots and use the Ice Spa while wearing Soft Rider center-loading shoes.
Helps Sore-Footed Horses
Equine veterinarian Dr. Joe Stricklin, and farrier Craig Doolittle, demonstrate how SoftRiders helped a sore-footed horse by providing cushioning and ease of breakover.
Core Support
Equine veterinarian Mark Silverman specializes in equine podiatry and likes the SoftRider because it is designed to support the core of the hoof, aiding in circulation that's important to the function of the foot. Silverman notes that the SoftRider is easy to work with and can be cut and ground for a custom fit to meet the needs of the individual horse.
SoftRider Cast
These photos from Stephen E. O'Grady, DVM, demonstrate how SoftRiders can also be cast onto a horse's hoof. Casting is ideal for horses that are too sore-footed for SoftRiders to be nailed onto the hoof.
Better Lateral Breakover
SoftRiders help with lateral breakover in a horse's stride. Unlike a traditional peripheral loading shoe, SoftRiders allow a horse's foot to roll over naturally, thus reducing strain and stress on tendons. The SoftRider's rubber tread also provides better grip than traditional shoes on all surfaces. The video on the right shows several before and after examples of sore-footed horses that were able to return to normal activities after being shod with SoftRiders.
This presetation explains how SoftRiders help with lateral breakover.
SoftRiders helped Fred, a former barrel racer, get back on his feet and back to his old, friendly self.
Technical Features

All SoftRiders feature a patented dual-density design that provides a rigid base for the whole hoof while absorbing shock and delivering better traction than traditional steel shoes.


Enhanced Breakover
The SoftRider is designed to provide enhanced breakover from front to back, thus easing tension on the deep digital flexor tendon.
Performance Athletes Benefit
The SoftRider's patented design benefits performance horses by spreading the load over the entire hoof, not just the perimeter, thus reducing painful leverage on soft tissues.
Nail/Casting Edge
The elevated edge enables a practitioner to temporarily mount the SoftRider with casting tape. It can be also shaped with a rasp for a custom fit and features nail location guide lines.
Laminitis / Protecting the Lamina
The SoftRider's sole allows the foot to roll fore and aft and side to side slightly, enabling laminitic horses to find comfortable footing and increasing mobility.
Neutral Resting Position
The SoftRider's substantial sole provides a comfortable, neutral resting position for the foot.
Center Loading
The SoftRider is a center-loading, accommodative shoe that supports the entire foot and reduces potential injuries to soft tissues.
Shock Absorbing Base Material
The SoftRider's shock absorbing base helps soften the blow of each step for performance horses and older or navicular horses alike.
Eases Tendon Stressors
The SoftRIder's design helps ease the strain on tendons and lessens the pull on ligaments.
Coming Soon!

We're in the final stages of developing a new gel orthotic that will allow Soft-Ride Boots and SoftRiders to be used together. Until the new gel orthotic is available, we do not recommend using your Soft-Ride Boots on a horse shod with SoftRiders.


Sizing Chart
All SoftRiders are sold in pairs and are available in 8 common sizes.
| Size | Width | Length |
| --- | --- | --- |
| #000 | 4 3/8" - 111mm | 4 5/8" - 118mm |
| #00 | 4 5/8" - 118mm | 4 7/8" - 124mm |
| #0 | 4 7/8" - 124mm | 4 7/8" - 130mm |
| #1 | 5 1/8" - 130mm | 5 3/8" - 137mm |
| #2 | 5 3/8" - 137mm | 5 5/8" - 143mm |
| #3 | 5 5/8" - 143mm | 5 7/8" - 150mm |
| #4 | 5 7/8" - 150mm | 6 1/8" - 156mm |
| #5 | 6 1/8" - 156mm | 6 3/8" - 162mm |
Profile Login
If you are an existing Soft-Ride customer, please login to your account.
Password Recovery
Please call customer service at 866-SoftRide to reset your password.
Logout of Soft-Ride?
Are you sure you want to logout of your account?